In many ways reflexology has been a part of my life for a long time. The entire body, especially the feet, was a focus for me growing up in classical ballet and spending many years as a professional ballet dancer.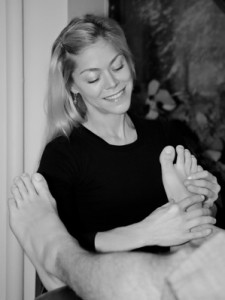 Focussing on the feet was ingrained as a way to prepare for my day. As I learned more about reflexology theory and technique, it became a natural transition for me as a career. Working as a reflexologist encompasses a lifetime passion of understanding and healing the body. Ever since I was young, I have been drawn to working on people and helping them feel better.
My experience is that reflexology assists the body's ability to heal itself by creating impulses that communicate with the brain. This is deeply relaxing and causes a positive effect. I have been a board certified reflexologist (ARCB) since 2001 and received proficiency in 2013 and Masters certification in 2017 in the Manzanares Method of Reflexology (MMR) and I worked as a reflexologist at Angel Feet, Greenwich Village, New York, for 6 years, and now I am happy to have a thriving private practice in Chicago and New York City.
IN THE NEWS
In June, 2008, Sarah became the Lead Reflexologist for "Reflexology: An Intervention for Advanced Breast Cancer," at Northwestern Memorial Hospital, Chicago, Illinois and NorthShore University HealthSystem, Evanston, Illinois. This is the first multi-site randomized clinical trial funded by the National Institutes of Health (Principal Investigator: G. Wyatt, East lancing, MI) to test a standardized reflexology intervention (compared to placebo and control groups) that will assist in improving quality of life (QOL) for Women Undergoing Chemotherapy for late stage (III and IV) breast cancer within the context of conventional medical care. Since then, a second NIH grant for further research with Sarah as Lead Reflexologist has been completed (2011-2016). Hospitals in Michigan and Illinois were involved in these two studies. A third NIH grant to continue research is underway using "SMART Design to Improve System Management Strategies Among Cancer Patients." Sarah is Lead Reflexologist, and hospitals in Michigan, Illinois and Arizona are working with this study (2016-present). For more detail about the studies, see Sarah's article in Reflexology Across America, Spring 2017.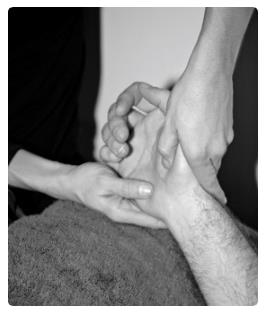 In 2013, Sarah achieved Proficiency Certification in the Manzanares Method of Reflexology (MMR) after acquiring 96 classroom hours in the science-based continuing education course. Developed by the renowned researcher, Dr. Jesus Manzanares, MD from Barcelona, Spain, the MMR course is approved for CE by the American Reflexology Certification Board. MMR Proficiency Certification acknowledges a practitioner's proficiency in the Manzanares Press and Slide Technique™, Manzanares reflexology research principles and protocols, MMR foot reflexology mapping and satisfactory practicum and written exam. Read more about the Manzanares Method of Reflexology research and training at http://www.ManzanaresMethod.com
In 2017, Sarah achieved her Masters Certification in the Manzanares Method of Reflexology in a one-week training program in the Manzanares Medical Clinic, Barcelona.
Sarah is the first person authorized to teach the basics of the Manzanares Method. See 'Classes' for dates and more information.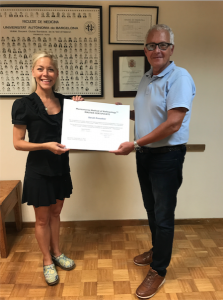 Sarah was featured in a Chicago wellness blog featuring a self-care workshop called Intro to Reflexology she hosted along with YouHealYou, LLC. Read more here.
Sarah was interviewed in Chicago Health Magazine in a piece about reflexology, pain and cancer. Read more here.
ON THE CUTTING EDGE
Sarah takes an innovative approach to reflexology by teaming up with Elsa Baer, Ph.D., owner of Neuroquest, Inc., a Skokie clinic specializing in neurofeedback and EEG analysis. Together they have been monitoring brainwave activity while conducting reflexology sessions to observe the effects of reflexology on the brain. This process provides valuable information about real time changes that are occurring in the brain during reflex point stimulation, maximizing the overall effectiveness of the treatment.
Sarah has been an adjunct faculty member teaching nurses Introduction to Reflexology for The Integrative Healing Arts Program at The BirchTree Center for Healthcare Transformation (www.birchtreecenter.com).
TRAINING AND CERTIFICATION
Masters in the Manzanares Method, 2017
Sarah is a member of the New York State Reflexology Association, Reflexology Association of
Illinois and the Reflexology Association of America.